Front Sided Cocktail 2-Player 24in Monitor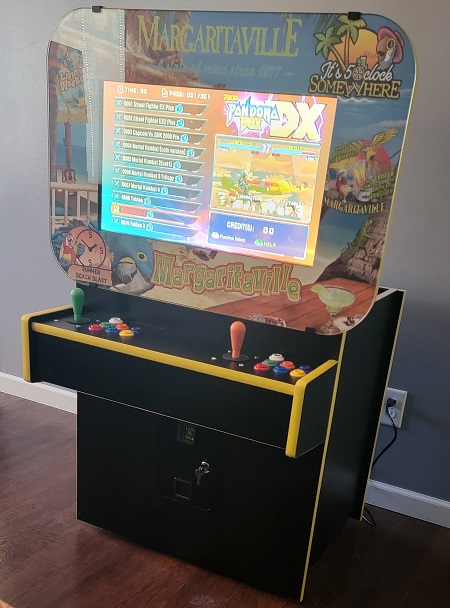 Bring the 80's and 90's Classics home with this brand new 3000+ Games in 1 Cocktail Arcade Machine. Enjoy all the games you grew up with. This machine comes assembled and pre-loaded with classic 80's games like Pac-Man, Galaga, Frogger and Donkey Kong. You can also bring a friend over and play 3000 retro fighting games like Street Fighter 2, Marvel vs Capcom, and Super Mario Bros. just to name a few.
Why are our arcades better than others on the market?
* Local vendor if parts need replaced.
* These cocktail table Multi-Arcade units are CNC cut for accuracy and hand assembled to ensure quality and reliability.
* Our cabinets are built using furniture construction technique-Dado corners, glued and bracing. (No other vendors Dado there's).
* Our unique cabinet design has been specifically created to use an LCD monitor. Other manufacturers use cabinets that have been adapted for use with older style CRT monitors and use heater straps from Home Depot to hold the monitor in.
* Cabinets are made from Melamine, Black is the most common, or plain particle and it can be painted any color you want.
(Melamine is particleboard laminated with a thermally fused paper/resin coating to provide a durable hard surface. Great for making cabinets because it wipes clean easily.)
FRONT SIDED COCKTAIL CABINETS 24in MONITOR
* Arcade Cabinet Made from ¾ inch Melamine board.
* 24 inch LCD ( Great monitor when playing 2-player and fighting games!)
* Custom Built 2 Player Control Panel ( 2 Player Control Panel on the front ).
* New Happ Buttons 6 on each player (Pick your colors)
* Top Bezel Cover Art (Pick your Art)
* Real 1/4 tempered glass arcade tops with machine rounded edges for safety, not dangerous plate glass or easy to scratch plexiglass.
* Black High Gloss Finish
* T-molding (pick from over 10 different colors)
* Happ joysticks (8-Way) designed specifically for playing all the fighting games.
* Speaker designed especially for arcade games, we use a original arcade 6×9 15w shielded vs others that use 4in 5w speakers.
* PANDORA BOX DX COCKTAIL Board, standard connector so it is plug and play if you ever wanted to change it.
* External Volume Control
DIMENSIONS
30T X 29 D x 35L
Weight 70lbs
OPTIONS: Please Read!
ADDITIONAL OPTIONS!
I include any theme for the Bezel (Top of Table). All arcades are built using a non-functioning cosmetic coin door door to allow the top to be opened for easy access to internal parts, a functioning coin mechanical door is optional for additional $25 which will allow it to accept quarters if you wanted too otherwise they come set for Free Play.
Control panel Artwork is $20 extra (Basically the cost for materials). Printed on 8mill Vinyl with a 3mil laminate to protect artwork.
Front/Back Artwork is $20 extra per side (Basically the cost for materials). Printed on 8mill Vinyl with a 3mil laminate to protect artwork.